Excellent weekend
A whole day of culture. I think I have had my biannual treat of culture today in the company of
trynen
. We went downtown Odense, visiting small stands selling antique bits and pieces. I bought a broche and three small ornamented frames.
The rest of the day we spent at
Brandts
, enjoying the current exhibition of
shadow play
. In the evening we went to
Café Biografen
to see the movie
Last Life in the Universe
. Excellent! I highly recommend it.
The user statistics for
glyn.dk
for the first days of August look like this: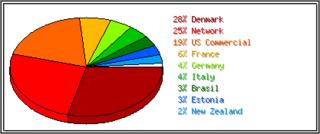 Less than half of the visits are Danish. A warm welcome to the rest of you too. And by the way,
trynen
was lucky to receive a
domain
and a years
hosting
as a birthday present. Lucky girl.
Late summers greetings,
-glyn