Currently reading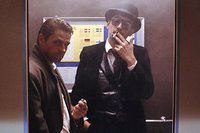 "Moord in het Paradijs"
by
Dan Turèll
, original title
"Mord i Rødby"
. Funny to read about your home town (Copenhagen) and country (Denmark) in a different language (Dutch).
Two weeks ago I finished
"Touching the Void"
by Joe Simpson, an amazing story of survival against all odds on a treacherous and icy mountainside... alone.
Thanks to
Andreas
for lending me his book.
Photo of Michael Falch and Dan Turéll by Rolf Konow,
www.falch.dk