Muffins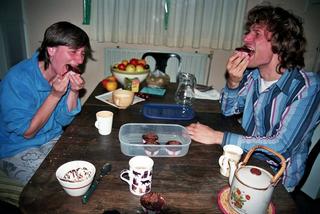 Last week I made the most delicious
muffins
: chocolate
muffins
with roomkaas filling from a Dutch recipe in one of Ingrids books. Here you see Ingrid and Rinaldo laughing and nearly choking on the
muffins
as I ask them to pose for the picture for more than a minute...
This week I also made some
muffins
. This time they were made from a
muffin
mix Ingrid bought at St. Anna molen, so I only had to add water, apples, walnuts and cinnamon to make yet another round of
muffins
for the house.
Mmmmm...